Struggling to give your products the illusion of being 3D and hollow? You can now create that effect with our affordable ghost mannequin service that's perfect for any occasion! Nowadays, Online marketers' main strategy is to attract the consumer with the best product. And, here product photography is the shortcut way to achieve their goal.
Ghost mannequin is also recognized as 3D mannequin, hollow mannequin, invisible mannequin, or neck joint. The term hollow mannequin is about a photography trick where a dummy or model is eliminated from a product or accessories. It looks like an invisible model wearing the garment or accessories.  As a result, every single part of the product can be recognized as how it will look after wearing.
Easy measurements and detailing of the product is the reason why 3D mannequin are preferable for viewing products in an online or any company showroom.
Hiring a top-class model or celebrity is a matter of cost. But, here the alternative way can be 3D mannequin service. It can provide the best viewing experience at a low cost.
Basically, invisible mannequin effect service gives the retailer's product 3D, hollow man effect. To know more about Ghost mannequins take a look at the full article! Stay tuned.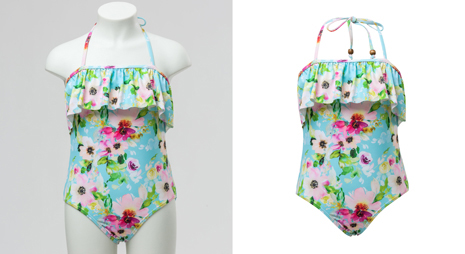 OUR WORK AT A GLANCE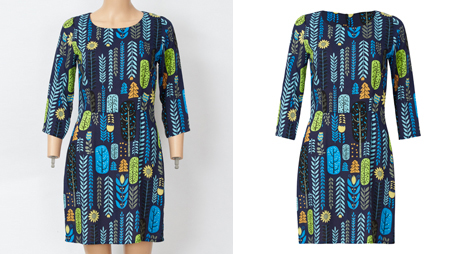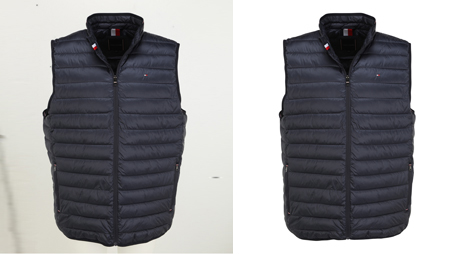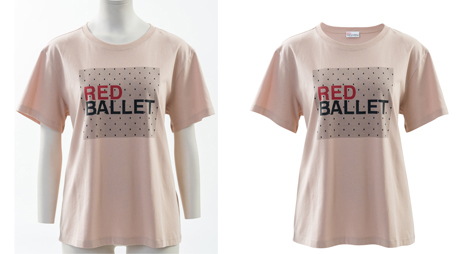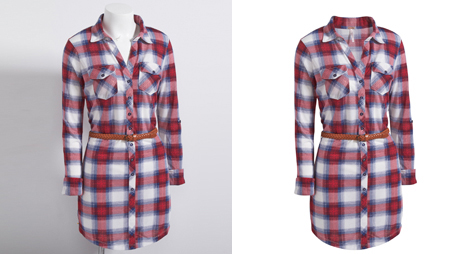 Our Results
What we done?
Perfect Ghost Mannequin Service
Ghost mannequin photography service – also known as 3D and hollow – creates the illusion of a hollow, see-through mannequin or product. It's an affordable and effective way to give your products and promotions the special effect they need to stand out from your competitors.
Instead of simply putting objects on stands, neck joints can make items look like they're floating or sitting above other objects.
Neck joints also let you use objects in your displays that don't have holes in them for hanging; any object with a flat side can be hung from a neck joint. When displayed together, neck joints add depth to your display while making it seem like items are actually sitting there naturally.
This also makes it more memorable in the minds of potential customers, who will remember products better due to their appearance. These can save time and money, you don't have to waste time or money on creation tools like Adobe Photoshop or hand-crafting mannequins from scratch.
Besides, it can save you hours of work compared with other methods, while also saving you precious resources. These resources can then be invested elsewhere in your business or used for other areas that need attention.
Our Invisible mannequin service will make your product appear realistic and lifelike without breaking the bank. These mannequins are great for store displays, trade shows, conventions, photoshoots, and more! Take a free trial today to learn more about our service!
Why Use The Ghost Mannequin Effect?
Mannequins are used for apparel or garments such as shirts, t-shirts, jeans, ladies' dresses, and other accessories photography.
Using state-of-the-art technology, our customer service representatives can replicate any object to look exactly like it does in real life. We are able to produce effects that are hard to achieve through other conventional manufacturing methods.
For example, you can easily make your products look as if they are hollow or translucent without actually modifying them in any way. This creates amazing visual effects, allowing you to put more emphasis on your products' key selling points.
Choosing the ghost mannequin company for product photography is beneficial. But, why are people using this service? Let's check out –
Low Cost
Detailing Product
Easy Capture
Get 3D View
Low Cost
The first reason to use ghost mannequin service is about low cost. When you've just started a business and thus reducing cost is a challenge! Hiring a model or celebrity is a matter of cost. Where invisible mannequin service makes your work better at a low cost. Then why spend money on other services? And, that's why people prefer the 3D mannequin or neck joint services! 
Detailing Product
The exclusive reason for hollow mannequin service is,  it helps to show the detail about the product with the best viewing result. Every single part's size, shape, and all short measurements are easily shown within a view! It's the competing job that only the ghost mannequin provides.
Easy Capture
Behind the product photography, there is a lot of effort to do for setup or decorations. But you'll be surprised to know the fewer steps you need to do while using the 3D mannequin service. Just need a perfect light and a good camera- yeah, just this! You'll get perfect photographs with one capture with this service.
Get 3D View
When attracting the product to a consumer is a challenge, a 3D shape will fulfill this job easily! And, ghost mannequin service is here to help you with great effort!
If you want a Static or dynamic 3D view? Or want to show your product with a back and front view with a 360° angle.  You'll get it with the ghost mannequin effect. So, why not choose this service?
What Are The Best Uses For The Invisible Mannequin Effect?
There are a lot of benefits you'll get by using the 3D mannequin service. But, the exclusive part of this service is really appreciable. The best uses for ghost mannequin service is noted below-
If you're not a living model or celebrity, then, of course, a invisible mannequin is best to use.
To attract the consumer, you need to criticize the specialty of your product. The best viewing result will get priority and the service does this job perfectly.
Take a perfect capture with neck joint views with invisible mannequin service. Here, the mannequin or dummy is invisible from the neck joint. As a result, neck joints with labels and trade are completely visible in photographs.
Also, this service removes hollow parts from the sleeves.
Sometimes, the back front is more lengthy than the front side of an apparel product. Here, the ghost mannequin effect shows both parts of the garments.
Finally, saving money and time is the reason why the ghost mannequin service is in demand.
Ghost Mannequin Image Editing Important in The Clothing Industry
As far as we know, there are a lot of business retailers interested in starting selling apparel online. The budget of this beginner is comparatively lower than the clothing industry. So, they choose a 3D mannequin to reduce cost.
Again, Despite being a clothing industry, there are a lot of matters that the industry needs to consider. Potential moves and facts are important in the clothing industry.  Like that, hollow mannequin image editing plays an important role. These are-
Doing a project at a bottom deadline is important in the clothing industry. 3D mannequin saves time with a little effort.
Helps to attract consumers with the best viewing result for only image editing of ghost mannequin service.
Ghost mannequin image editing provides the best graphical view that impresses clients easily.
Helps to create a refreshing look of the product and all fit, flair, and texture of garments
The invisible mannequin effect helps to merge two images. So, it is easy to show the label or back front clearly to approach customers.
Who Needs Ghost Mannequin Service?
A ghost mannequin may be a surprising choice for your retail store, but one that could certainly work well in certain situations. The effect can add dimension to your clothes racks or product displays.
Hence, giving shoppers a more realistic impression of what to expect when they purchase their chosen items. Many businesses have already found success with a 3D mannequin effect.
To get a perfect view of a product while saving money and time, every retailer wants to use invisible mannequin service. Our 3d hollow man effect allows you to create a dynamic display that adds multiple dimensions to your merchandising options.
Now, take a look at who really need ghost mannequin service-
Online or e-commerce website
Online clothing shops
Clothing and fashion house
Garments or the apparel industry.
Journal
Marketing agencies
How Do Our Experts Do This?
To give products a 3D, hollow man effect, our designers will take any existing image or design, or make one from scratch. This gives your client an interactive view of their future product (and saves you hours in Photoshop!).
Once we've obtained a digital copy of your client's photographs, we use industry-leading software to edit and tweak that image into its final format.
Clipping path or masking is useful for those to create a dimensional mannequin effect on your product photography. Hence we create a 3D effect by using light sources or shadows cast onto translucent cloths attached behind each item.
To create realistic, 3-dimensional mannequins in a variety of shapes and sizes. The process is quite simple: After your order, we'll take your clothes and re-create them in a hollowed, mannequin form using materials such as polystyrene or aluminum. Then we add details such as sleeves, collars, buttons—anything that's necessary to produce a realistic look for your display.
Get a realistic view of the product including the front and back 3D view, our experts are helping you out. What's the specialty in our services, want to know? Let's take a look-
Remove the unnecessary object from the image
Separate the object from the image
Remove artifacts from the image
Masking in the fall shadow for viewing a realistic photo
Why Choose The Clipping Path To Solve For Ghost Mannequin Service?
To get the best product photographs, we really need a trustworthy service. We know how important it is to get quality when you're an e-commerce retailer. There are several services on an online website. But, we recommend the Clipping path to solve as one of the ghost mannequin service providers. Why choose? Check it out
Create perfect outline and layers which you actually want
Supporting the drop shadow creation
Remove the unused things from images
For the edge smoothness
Produce exceptional creative photographs for your merchandise.
Displaying product images on your website or sending images to buyers, both are potential moves. And, this important task can only be worthy of your work. Thus, choosing a ghost mannequin service will satisfy your job within a short period and with less effort. So, what are you waiting for?
Whether you need a mannequin for a trade show or other event or want one to display your products in a store setting, we can work with you to determine what will best fit your needs.
Frequently Asked Question
Question 1: Why is Ghost Mannequin Image Editing Important in the garments industry?
The only shortcut strategy is the best product photography to impress the buyers. Ghost mannequin editing just shows the real view without any model or mannequin. Here, buyers just see the product and this is the best way to influence the buyer with a realistic view.
Question 2: When should you use ghost mannequin editing?
To get a great image editing effect of a product,  you can use the 3D mannequin service. Ghost mannequin editing enables the front and back view, 3D effect, and every detail about the product. To get all these benefits, you should use a invisible mannequin editing service.
Question 3: How much do ghost mannequin services cost?
Ghost mannequin services cost is starting at 0.99$ per photo only. Again it can vary from $35 to $50 per photograph.
Frequently Asked Questions (FAQ)
Can I get free trials to check your service quality?
Undoubtedly you will get 2-3 free trials to check our working quality.
Are you able to provide rush delivery service?
Our rush service is the perfect option whenever you need to process a huge number of photographs in a short amount of time. This service offers a unique facility for completing tasks rapidly.
What Payment Method Do You Use?
We have a safe and simple payment method in place. Credit card payments can be made via PayPal. We also receive checks from US customers, as well as standard banking transactions.
What is the price per image that you charge?
Our price lists can be found in the right column of our website. It is, however, limited by image quantities, quality, and time limits. Kindly submit your queries at [email protected]
Is there any discount if I order a large quantity?
We certainly do! A discount can be bestowed if a customer submits a project at least 100 photographs, and it raised up to 30% based on the image quantity and image classifications.
Are you accessible 24 hours a day, 7 days a week?
Indeed, our team is available 24 hours a day, seven days a week. We work not only throughout the day but also at nighttime to ensure that your work is completed on schedule.